Innovation Stations
The Innovation Stations are dedicated spaces within the Library that foster creativity, inspiration, collaboration and engagement. They provide tools for innovators, artists, musicians, creators and learners to express themselves.
The Innovation Stations provide access to a 3D printing and scanning section, recording studio and videography/photography room with equipment for digital design, musical instruments and recording equipment, virtual reality accessories, do-it-yourself electronics, and other makerspaces. 
Come to our Innovation Stations to learn about new technologies and bring your creative ideas to life!
As a requirement to use our Innovation Stations and equipment, you need to have an active membership of the Library and sign the
Usage Agreement.
To print your 3D files, you will also need to fill out and sign the
3D Printing Request Form.
Please send the signed forms to innovationstation@qnl.qa.
Innovation Station 1 - Digital Production Station
The room is fully equipped with Adobe software applications for digital production purposes, where learners can edit and develop their digital and physical projects. Click here to book the station.
Innovation Station 2 - Music Production Studio
This is a music production room, which has a variety of instrument and music production equipment. Click here to book the station.
In the Innovation Station music studio, you can record professional-quality audio and video. The studio is equipped with the following musical instruments and production software and equipment:
Musical instruments:
3 portable keyboards (Yamaha PSR-E443)

1 acoustic guitar (Yamaha CPX700II)

1 electric guitar (Yamaha RSP20CR Rusty Rat)

1 bass guitar (Yamaha BBNE2)

1 silent guitar (Yamaha SLG200N)

Effects pedals and processors

1 electronic drum kit (Yamaha DTP582)

1 violin (Yamaha Standard Model AV5, size 4/4)

1 silent electric violin (Yamaha SV-130)

10 ukuleles (Rogue)

3 ouds

7 neys

1 darbuka

A selection of supplies such as music stands, cables, headphones and more
Music production software:
Ableton Live 9

Sibelius 8

A selection of iTunes apps for music production, such as GarageBand, JamUp Pro, BeatMaker 2 and Audiobus
Music production equipment:
Behringer Q802USB 8-channel mixer

FX2000 eff­ects processor

Ableton Push 2

IK Multimedia iRig Keys Pro full-sized 37-key MIDI controller

Novation Launchkey Mini 25-Note USB keyboard controller

CAD U37 USB studio condenser recording microphone

Behringer XM8500 dynamic cardioid vocal microphone

Pioneer XDJ-RX Rekordbox DJ system

Singtrix Party Bundle home karaoke system
Innovation Station 3 - 3D Printing
Users can have the models they have designed printed using our 3D printers. We charge 1 QAR per gram. Users need to email the Innovation Station at innovationstation@qnl.qa for any printing request.
Equipment:
Ultimaker 3 - 3D printer

Ultimaker S5
Software:
Innovation Station 4 - Green Screen Room
The room is fully equipped with a high-resolution camera, lighting kits, and different chroma colors. Click here to book the station.
Equipment:
Canon EOS 4000D camera 

Canon Power Shot SX 710 HS digital camera
* Tripod is currently not available

Software:
Final Cut Pro

Adobe Creative Suite
Courses and Activities
We have different types of programs and workshops related to technology that we offer on a monthly basis.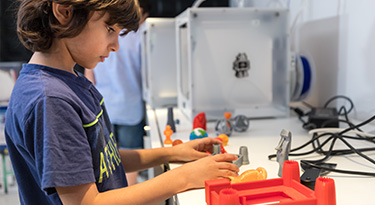 The Innovation Station offers a wide variety of courses to get you started on your creative ideas and projects. Frequency, dates and times vary, so follow the Library's calendar for updates. 
3D Printing:
Introduction to 3D Printing Software: This course offers tips and tricks on how to use 3D printing software properly and how to prepare your 3D file for printing

3D Design for Adults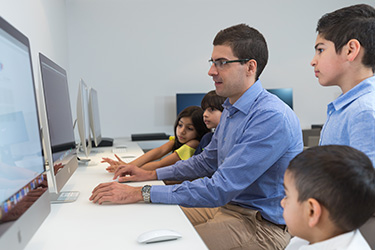 Videography/Photography/Design:
Introduction to Digital Design

Photoshop for Beginners

Advanced Photoshop

Introduction to Video Editing Workshop

Green Screen for Beginners

Intro to Digital Photography

Intro to Virtual Reality: Experience Virtual Reality in a Simple, Fun and Affordable Way

RASPBERRY PI 3: Learn Basic Coding and How to Turn Equipment and Materials into a Gaming Console
Other Activities:
Lego Challenge: Calling all Lego lovers! Come create, build and show off your skills by building an inspirational concept. We will provide a new challenge every time.

STEM Academy: Are you interested in finding out what Arduinos and Makey Makey are? Come learn how these electronics can change your life.