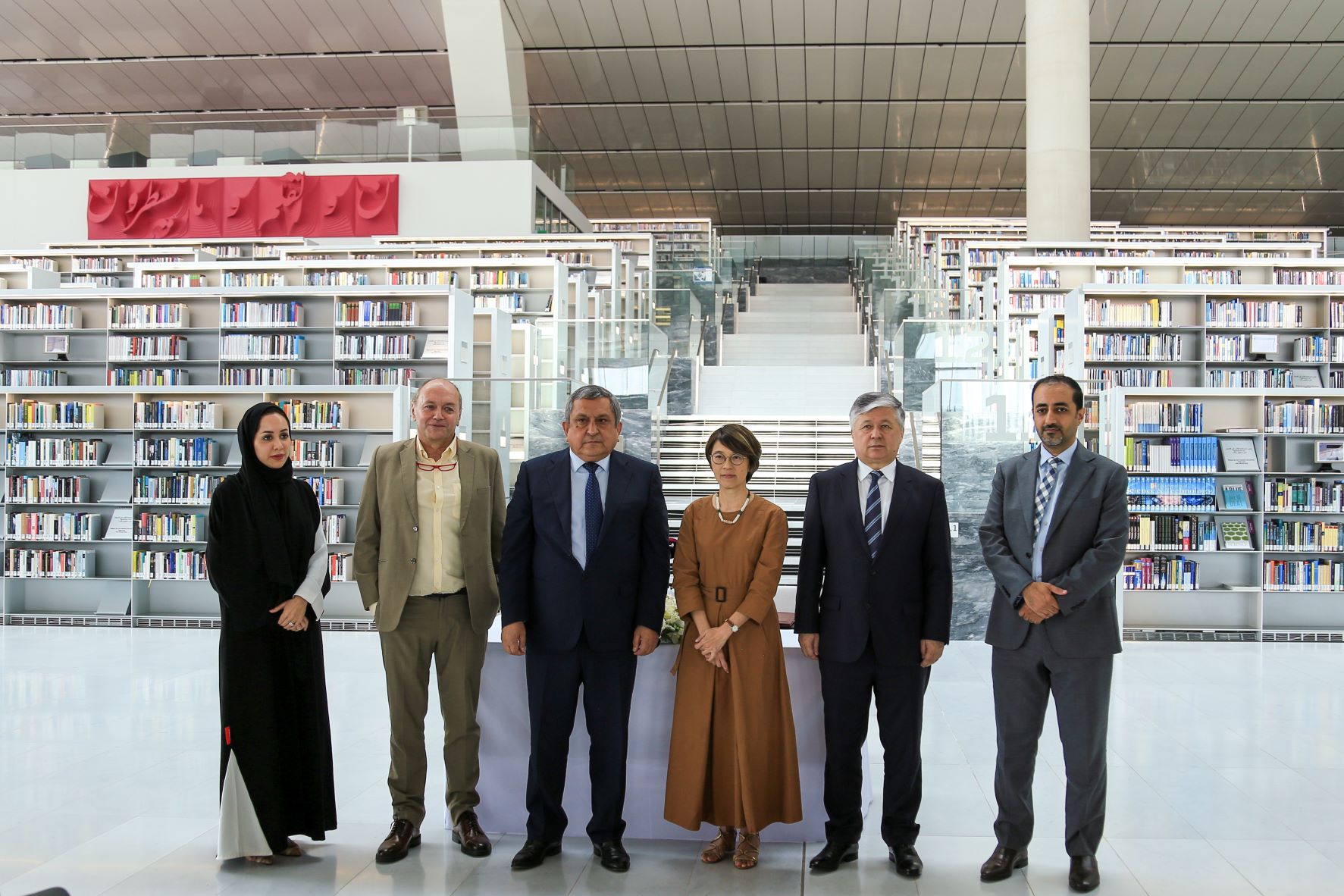 Qatar National Library has signed a Memorandum of Understanding (MoU) with the Center of Islamic Civilization in Uzbekistan (CICU), which is under the Cabinet of Ministers of the Republic of Uzbekistan, to collaborate in the efforts of documentary heritage promotion, preservation, and protection.
The collaboration between both entities will explore opportunities for the exchange of publications, lists of manuscripts within respective collections, and digital exchange of manuscripts from the public domain on topics of common interest. It will further promote
knowledge and learning through cultural exchanges, events and community development between both institutions. The International Federation of Library Associations and Institutions (IFLA) Regional Centre for Preservation and Conservation (PAC) at the Library will also seek to cooperate with the CICU conservation laboratory in the field of book and manuscript conservation.
The event was held in the presence of His Excellency Dr. Bakhromjon Aloev, Ambassador of Uzbekistan to Qatar, His Excellency Shaazim Minovarov, Director of the Center of Islamic Civilization in Uzbekistan and Tan Huism, Executive Director of Qatar National Library.
Commenting on the event, His Excellency Dr. Bakhromjon Aloev, Ambassador of Uzbekistan to Qatar, said: "Uzbekistan has established a very strong, cooperative relationship with Qatar over the years. The signing of the MoU by both these important institutions will see collaboration in various fields, including research about Islam and research into the digitization of manuscripts that exist in Uzbekistan, among others."
"The Arab and Islamic documentary heritage faces many challenges and dangers that require the solidarity of all concerned countries to protect and preserve this unique heritage through its digitization, exchange, preservation and accessibility. We are confident that this MoU will be a rich addition to the efforts made by both institutions to preserve Islamic heritage and the legacy of Islamic civilization in various fields of knowledge," commented Tan Huism, Executive Director of Qatar National Library. 
On the occasion of the signing ceremony, the Library organized an event to highlight the legacy of Uzbek scholars through the ages. Presented by Mr. Minovarov, the lecture discussed some of the most famous scholars of Uzbekistan throughout history and how Uzbekistan has become the modern country it is today. Stephane J. Ipert, Director of Distinctive Collections at Qatar National Library, further highlighted examples of these scholars' work within the Heritage Library collections and the impact of their legacy up to the present day.
The Library continues to explore regional and international collaborations to continue its role in sharing the cultural legacy of the Arab world and to provide people with a wide variety of informative and educational content.