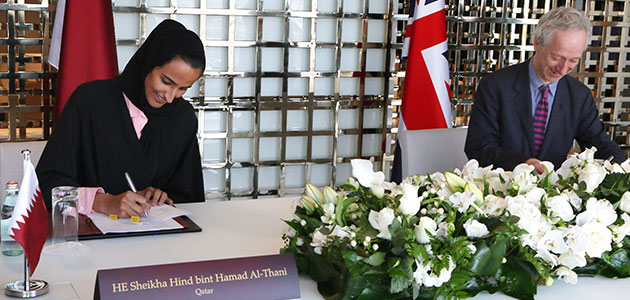 Her Excellency Sheikha Hind bint Hamad Al Thani signs agreement for digitization project at library
Her Excellency Sheikha Hind bint Hamad Al Thani, Vice Chairperson and CEO of Qatar Foundation, and Roly Keating, Chief Executive of the British Library, today signed an agreement that will see Qatar National Library (QNL) begin Phase 3 of its partnership with the British Library. The next phase, which will begin in January 2019, will allow QNL to continue digitizing the British Library's historical collections on the Arabian Gulf region.
The ongoing digitization project, one of the largest of its kind, started in 2012. The first two phases digitized more than 1.5 million pages, which are now accessible on the Qatar Digital Library (www.QDL.qa). The QDL is a free online digital archive that has had more than 1 million users and 8.8 million page views since its launch in October 2014.
Phase 3 of the project will involve the digitization of 900,000 pages of new material on the Arabian Gulf as well as Arabic manuscripts on science. The Arabian Gulf-related material includes music, maps, ships' logs, reports, letters, private papers (including the Curzon Papers), and historical publications. QNL Deputy Executive Director for International Relations and Communications, Dr. Stuart Hamilton, said: "Most of the reports and letters we've selected for Phase 3 are uncatalogued and were therefore previously inaccessible. They will be new to researchers.  Since they form the lion's share of Phase 3, these documents will shed much new light on the history of Qatar and the Arabian Gulf. We think the public will be especially captivated by the East India Company ships' logs from the 1600s–1850s. We will digitally map them so that viewers can follow each ship's journey and see how shipping between the Arabian Gulf, India, and Britain increased in frequency during the Arabian Gulf's early incorporation into the global economy."
Roly Keating, Chief Executive of the British Library, said: "One of the British Library's core purposes is to work with partners around the world to advance knowledge and mutual understanding. Collaborating with Qatar National Library and Qatar Foundation has enabled the British Library to make our collections relating to Arabian Gulf history and Arabic science accessible to hundreds of thousands of users across the world, fostering new areas of research and creativity, and transforming access to these important collections."
Dr. Sohair Wastawy, Executive Director, QNL, remarked: "Our partnership with the British Library has resulted in one of the largest collections of historical records on the Middle East being placed online. The QDL has been of huge benefit to researchers working on the history of the Arabian Gulf and the history of Arab science. The third phase of our ongoing digitization efforts will allow scholars worldwide access to even more historical material from the British Library, which is sure to foster new and exciting scholarship on these subjects."